About Theater Papilio
Theater Papilio creates poetical and enchanting theatre plays for children and their adults. The productions fuse puppetry with physical theatre, live music, the play with objects, sometimes storytelling – always striving for simplicity of means. By leaving unfilled spaces, we hope to nurture each child ´s very own imagination and curiosity. 
This mission is also carried forward through often process-led participative arts projects with children: Past engagements include workshops, artistic residencies and cross-disciplinary summer schools, often in an arts and health or arts and nature context.
Founded by Anna Rosenfelder in 2006, the company was since based in Ireland and Germany:
Papilio´s productions toured theatres, art centers, festivals and fields in both countries. Now residing in Tuebingen, we maintain a bi-national profile through collaboration and exchange with all the inspiring and skilled artists that were involved in Papilios journey along the way. 


People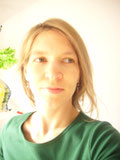 Anna Rosenfelder is a puppeteer, story spinner and arts facilitator. She plays with puppets, found objects, natural materials, words and song to create striking visuals, invent little worlds and stimulate imagination.
Anna trained as a puppeteer in Bochum, Germany- which is where she founded Theater Papilio in 2006. Anna also devises and facilitates participatory arts experiences and workshops for children.
When living in Ireland, she realized projects with Airfield, Killruddery Arts, Mermaid Arts Centre, Kildare & South Dublin Libraries, Ards Arts Puppet Festival and completed residencies with Killruddery Arts (Enchanted garden), DLR County Council (Creative Classrooms) & Helium Arts and Health (the Puppet Portal Project). She returned to Germany with her family in 2011.




Eoin O Brien is a Dublin based multi-instrumentalist, composer, songwriter, producer and audio engineer. He created music, sound effects and atmospheres for film, television, radio, theatre, dance and audio books, as well as writing, arranging, performing, recording and producing with many bands. Eoin is also a highly experienced copy editor.
Eoin is live performer and musician in the Papilio shows "Dot" and "Holla´s House" (when touring in Ireland). He composed and recorded the music for Papilio´s productions "The fisherman and his wife" and "taru´s magic gifts".
When guest editor for practice.ie, Anna talked with Eoin about their collaboration. You can read the full interview here.


Janne Wagler, born in Chemnitz, is a Tuebingen based theatre maker. A trained performer, Janne also works as a project facilitator and drama teacher with many primary schools in the area. Janne directed a wide range of shows, from theatre to big scale musical. In her solo performances she brings the audience up close to the inner lives of her characters.
Since 2012 Anna and her collaborate on multidisciplinary theatre projects for children. Janne directed Theater Papilio´s shows "The fisherman and his wife" and "Turlipan"